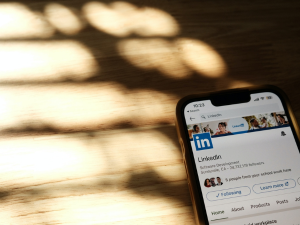 As cybercriminals continue to take advantage of people who use social media, many LinkedIn accounts are at the center of a hijacking scheme. This targeted attack is very dangerous for professionals and business owners who use the platform. Hackers can take over your account and send damaging messages to your connections, among other malicious activities. 
Learn more about this issue and how you can protect your LinkedIn account.
Why Hackers Are Turning to LinkedIn
Data shows how many compromised LinkedIn accounts exist. In fact, according to Google Trends, searches like "LinkedIn account hacked" and "LinkedIn account recovery" grew more than 5000% in 2023. But why are hackers targeting this social media site for their attacks?
LinkedIn is all about making business connections, which hackers can quickly ruin if they get access to your account. They can send hurtful messages to your many connections in an attempt to hurt your image or spread harmful content to your network. The accounts of well-known business owners and their workers need to be kept safe. 
Has Your LinkedIn Account Been Hacked? Here's What To Do
If you can't access your LinkedIn account or hear from others that your account has been hacked, you can report the issue to LinkedIn. The site's Help page allows you to submit your concerns and work with an employee to resolve them. 
Some users end up paying hackers ransom to regain control of their accounts. Rather than endure a financial loss, there are better ways that you can safeguard your LinkedIn account.
The best way to navigate this issue is to take steps that protect your account. This way, it's harder for hackers to retrieve your login information and access your account. 
How To Protect LinkedIn Accounts
One of the best things you can do to protect your LinkedIn account is to enable two-factor authentication. In other words, you'll have to input your email address, password to log in, and one other credential. Ways to verify an account through two-factor authentication include:
Giving a correct answer to a security question
Entering a one-time passcode
Entering an account PIN  
Even if hackers have your email address and password, your account will be more secure when you require another form of verification to log in. Experts also recommend setting a unique password that will be difficult for someone to retrieve. If you receive any reports of attempted logins, change your password immediately to enhance your security. Don't become one of the many LinkedIn accounts that hackers take over.